Welcome to the Home of Men's Dartball in Toledo Ohio.....

2019-2020 Season....
April 2 2020
Have had a few questions about what we are going to do regarding finishing the season or what......so....
Ok.....here's my thoughts on the whole thing( and I have talked with Teddy about this).......Obviously first of all ...all we can do is wait & see when they're going to let places open back up .....I think when they open up they will need our support to get going again.....so if we can finish out in June or July that would be fine for most & much needed business for the bars.................. another thought I had, was to leave this years money in the bank and use it as next
years entry fees to help out the bars who have supported us, when they open back up they aren't going to have a lot of cash to be throwing out for sponsorship & to fix the board &/or new darts, so if they didn't have to come up with entry fee it would help them business-wise and be a great gesture of our part to help out ..... & to give everyone an idea , if we divided the money up and split the "winners Money" between the playoff teams,.... pay-outs would be about $125 for the lower teams, & up to $228 for the top team.......or if you have 12 people per team, its about $10 , up to $19 per person .....so ...obviously no one is paying the mortgage with the money were getting back.... This is not set in stone and we have nothing in the rules to cover this......if enough of the captains do not like this we can have some sort of meeting to vote on other options.....Feel free to leave your thoughts or send me a message if you want......either way a final decision would come down to a Captains vote.....
Be Safe

Murph.....

Ok...as most of you have heard already,.... the state is shutting down all bars & restaurants tonight at 9,...so its gonna be hard to throw darts tomorrow night.....
As of now we will wait & see how long this is going to be in effect, before making any decision on the remainder of the season...
Be safe my friends....
5:30pm Sun. 3/15/20

------------------------------------------------------------------------------

Ok ...had a few people ask already..concerning the virus
..as of now ... 830pm 3/12/2020

All matches are on.... if things change, I will update......
be smart... if you feel sick stay home... try to wash your hands before you start throwing darts...
I will continue to keep an eye on the situation as I'm sure you all will too...
Only 1 week left in regular season......Play-offs will start

March 23rd best 3 out of 5 games... Matches will start at 7 pm.....
6 Teams from each League will make Play-offs..(American & National)
Division Winners in each League (American & National) will get a 1st round BYE....
# 1 seed = Division winner with best record
# 2 seed = other Division Winner
# 3 - # 6 seed = Next best records in each league --

First round #6 seed at #3 seed -- best 3 of 5 games - 7 pm start

# 5 seed at #4 seed -- best 3of 5 games - 7 pm start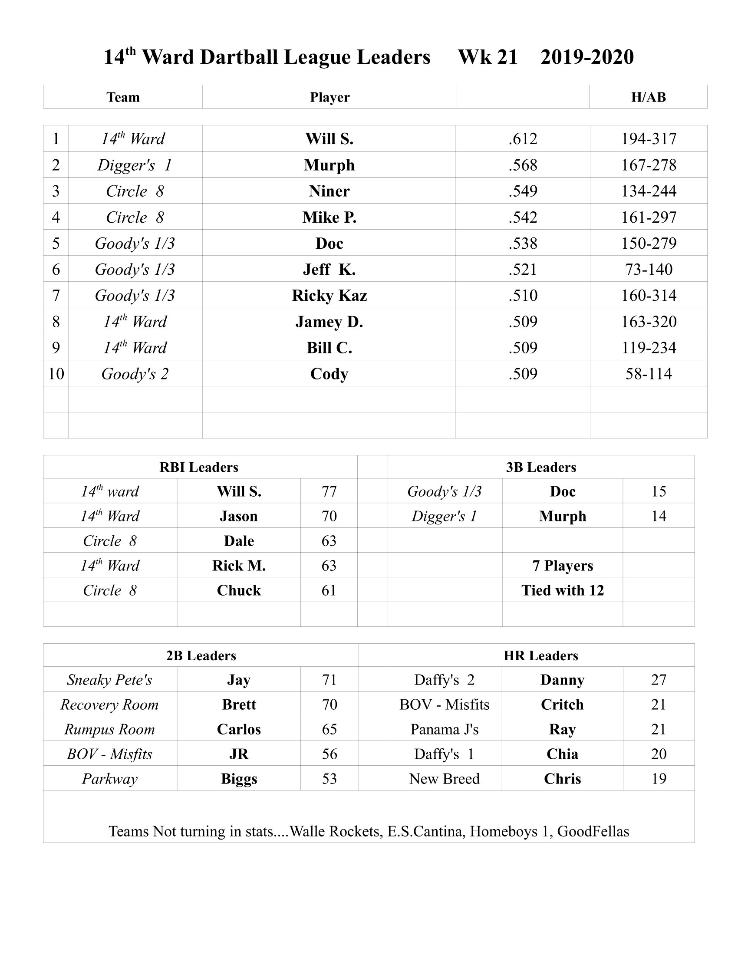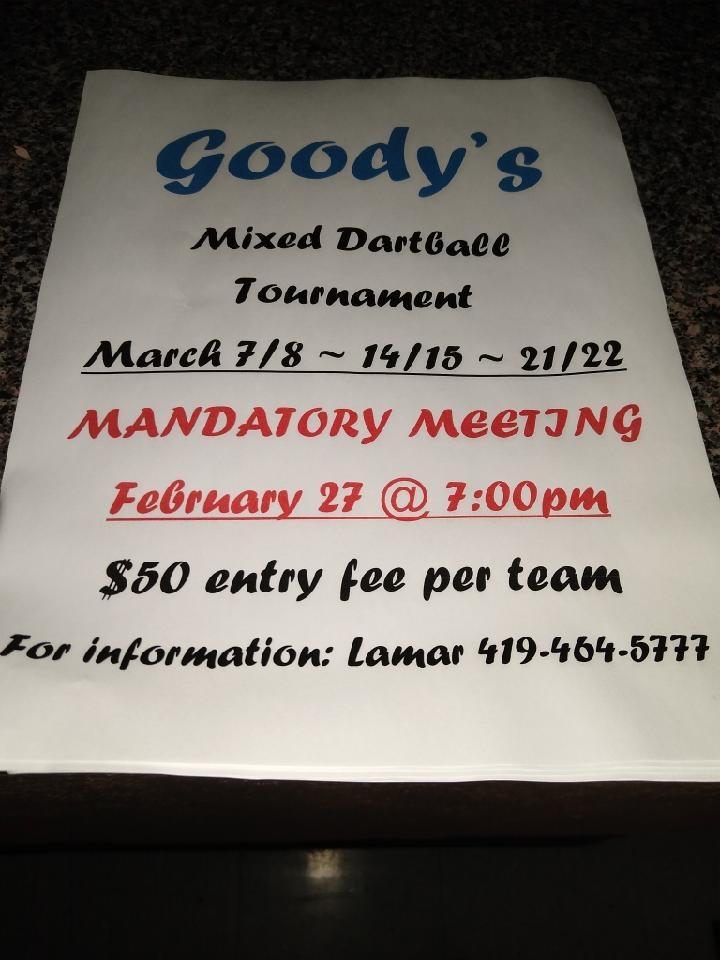 Condolences & Prayers
go out to the Family & Friends of
Lonnie Good...
Lonnie passed away recently after a battle with cancer....
Lonnie had been a longtime sponsor & friend of 14th Ward DartBall League....May he Rest in Peace ....
Until further notice Walle Rockets is playing home games from
Zingers Bar....on Matzinger Road...
____________________________________________________________
________________________________
________

All Teams should bring their own Game Darts to use every week...at Home or on the road...
(Be sure to mark your darts with a stamp or marker)

Home team should still supply practice darts...
Home team warm-ups; any until 7:15
Visitors warm-ups; 7:15 - 7:30
Home Team call or text score

immediately following your match...

New schedule is posted on schedule page....
Bar & Team Info have been updated as well..
Congrats to Circle 8 on winning
the 2018-19 League Championship..!!!
Thanks to everyone for another Great Season.....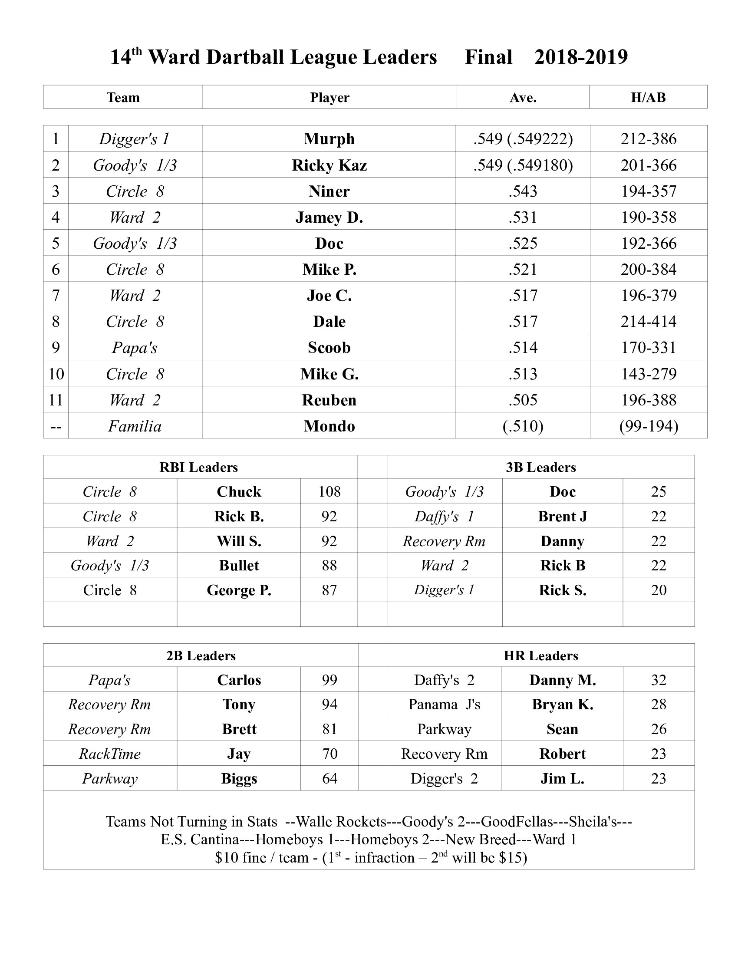 2018-19 Dartball season.....
All teams ...remember to check your bar and board set-up to ensure everything is ready for the first match.....
Lighting....(adequate lighting on board, batters box & throwing lane)
Game board in good condition...

Dartboard height ( 52 1/2 in. to center of "H" )....

Board distance ( 25 ft. from batters box to center of board )....
2 ft. clearance from batter or "throwing lane" for any seating or standing space...
Score sheets are 3 copy this year ( 1 -home team, 1 -visitors, 1 -League) (must be saved by home team & turned into league at later point)

Also just an FYI.... the darts we use cost approx $3 ea or $35/dozen....(remember that when your mad because YOU are throwing bad & want to take it out on the darts)

HOME TEAM MUST CALL OR TEXT IN RESULTS IMMEDIATELY FOLLOWING YOUR MATCH to....

Murph at (419) 290-2187....

All teams should keep up to date accurate "Team Stats"....these will be turned in to the league


"Do you know what my favorite part of the game is ?

The opportunity to play."
---------------------------------------------------------------------------------------

Remember.....This League only works if you do....Team Captains are

responsible for making sure all required league papers on turned in on

time...& for ensuring your team, darts, board & home-bar are ready

for scheduled matches... Without co-operation & participation it is

impossible to maintain a legitimate league.....
________________________________
_________________________________________________________
_________________________________________________
2018-19 Champs Circle 8

2018-19 Runner-up- Ward 2

2017-18- Champs....
2017-18 Runner-up....
2016-17 Champs - Goody's 1/3
2016-17 Runner-up - Daffy's 1
2015-16 Champs - Goody's 1/3
2015-16 Runner-up - Latino's 2
2014-15 Champs - Circle 8
2014-15 Runner-up - Ward 2
2013-14 Champs - Circle 8
2013-14 Runner-up - Daffy's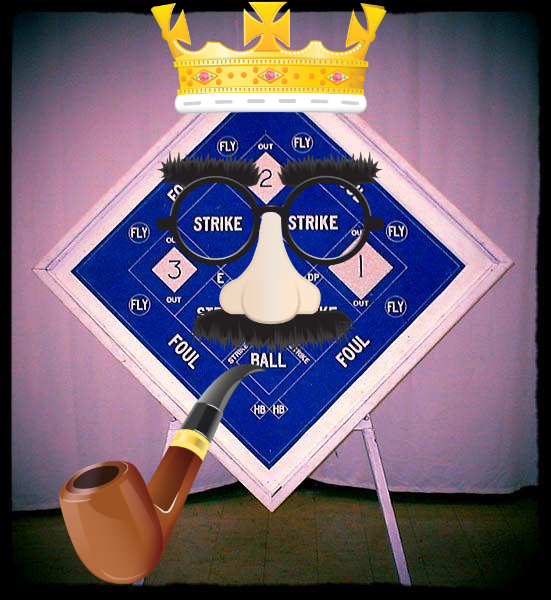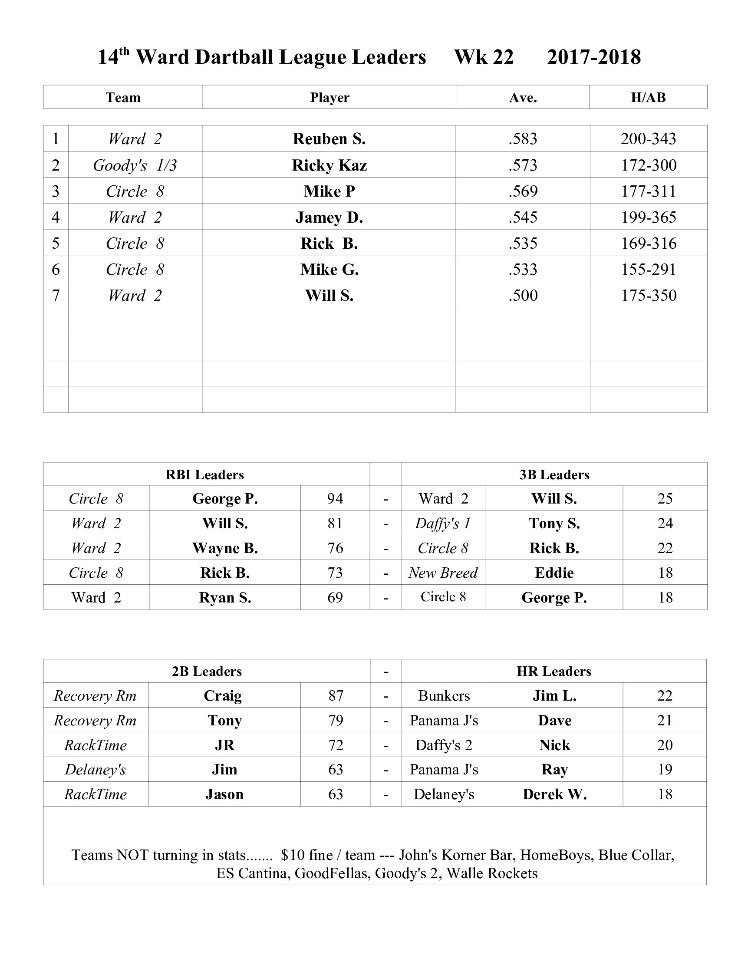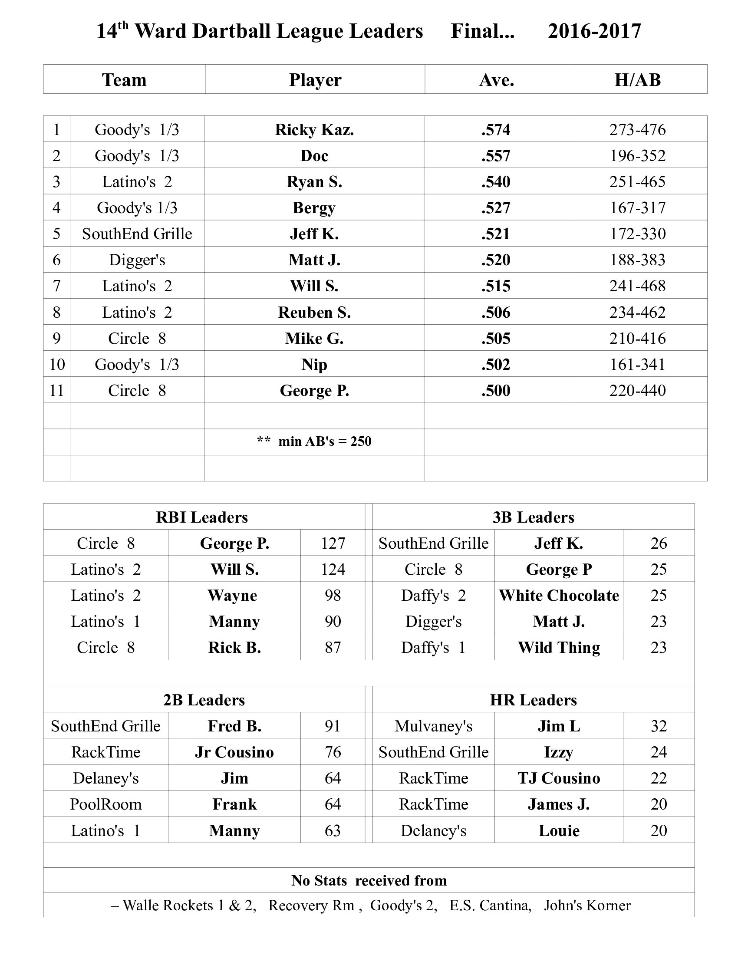 ============================================================

============================================================

============================================================