Welcome to the Home of Men's Dartball in Toledo Ohio.....
Congrats to all teams making the Play-offs this year.....
and Thanks to all of you for another Great Year......
We will schedule a final League Captains meeting for the Monday
following the last week of the Play-offs & Championship
Time & Place TBD....
All Captains will be notified once it is set...
Any & all are invited out to watch any of the Play-off match-ups....
Next Monday Play-off Matches...
Best 3 of 5 games -- 7pm start
(#6) Recovery Rm at (#3) Goody's 2
(#5) Homeboys 1 at (#4) Digger's 1
----------------------------------------------------
(#6) Panama J's at (#3) Daffy's 1
(#5) RackTime at (#4) ES Cantina
Division winners have a 1st round BYE
Play-offs......
Play-offs will start March 25th .....
6 Teams from each League (American - National)....
Division Winners (East - West) plus next 4 best records in each league
Division Winners will get a first round "BYE"
#6 seed @ #3 seed
#5 seed @ #4 seed

Matches will be best 3 out of 5 games
Lower seed will be "home team" games 1, 3, & 5
Higher seed will be "home team" games 2 & 4

Games will start at 7pm.....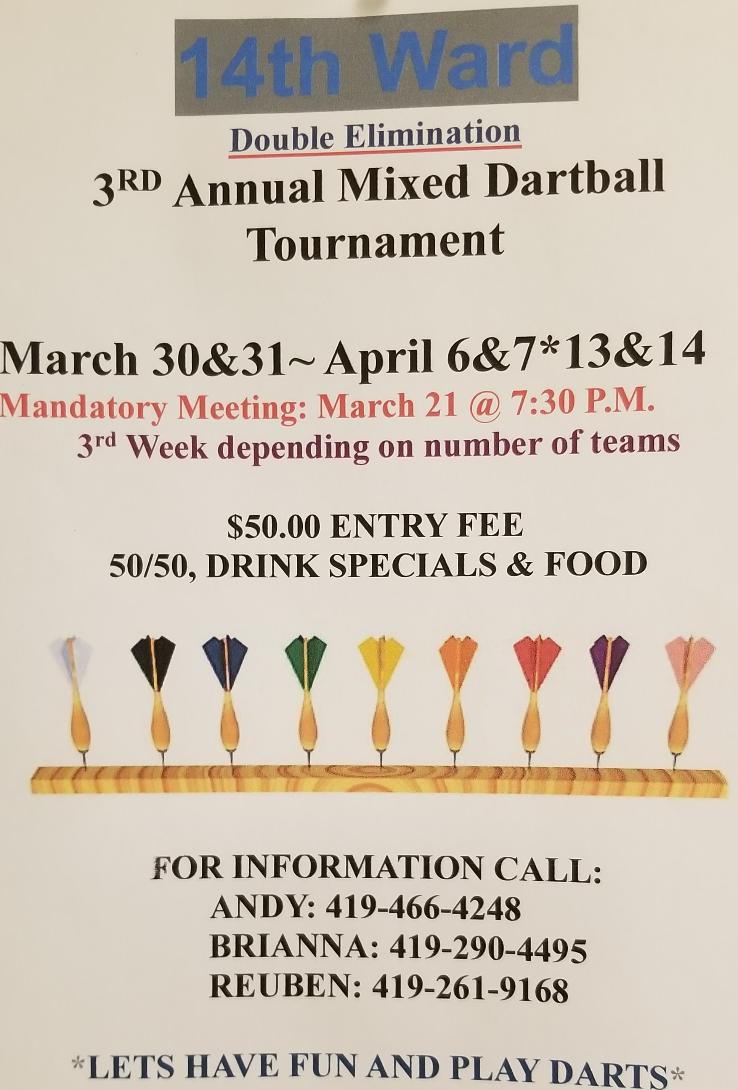 Thank you to those who sent in team stats....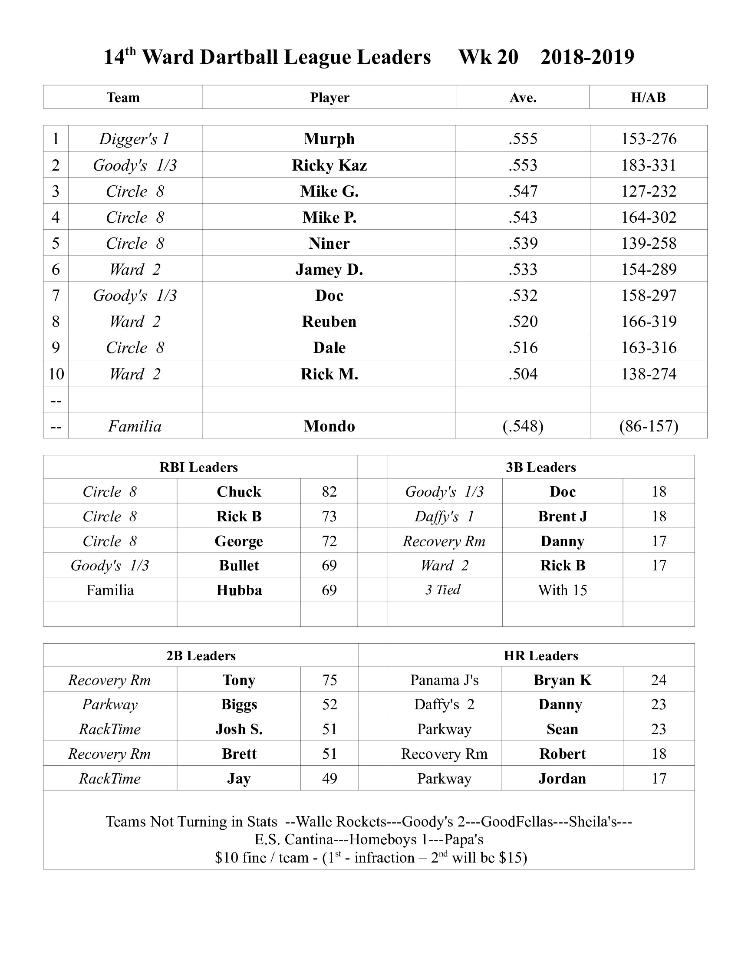 Thank you to all the teams that took the time to send in stats....
Thanks to those who didn't, for the extra money in the league fund...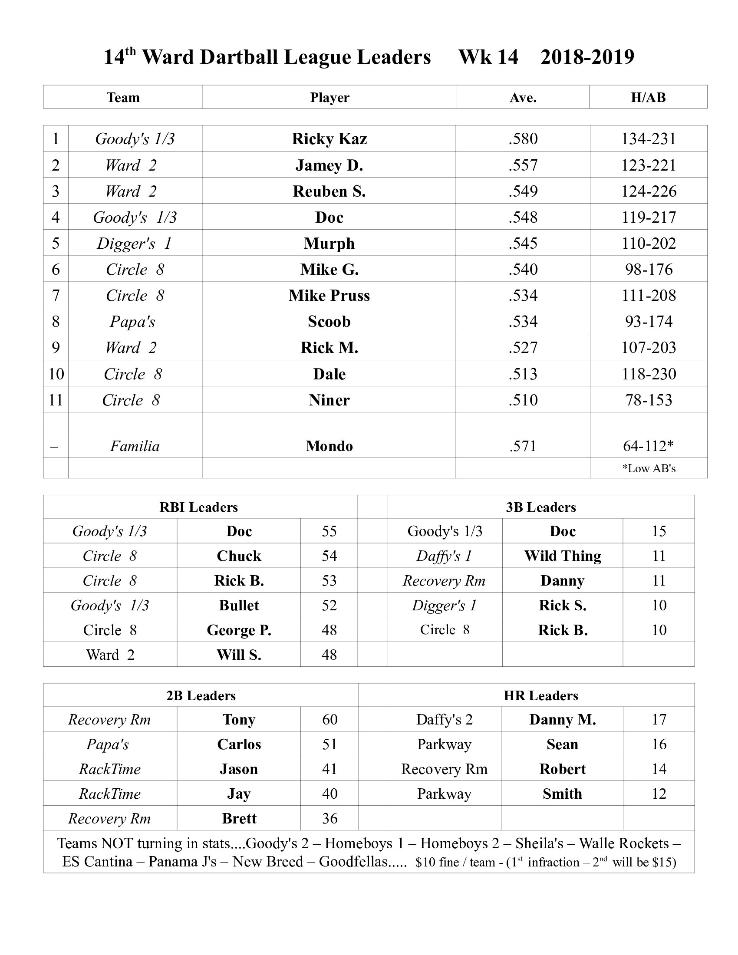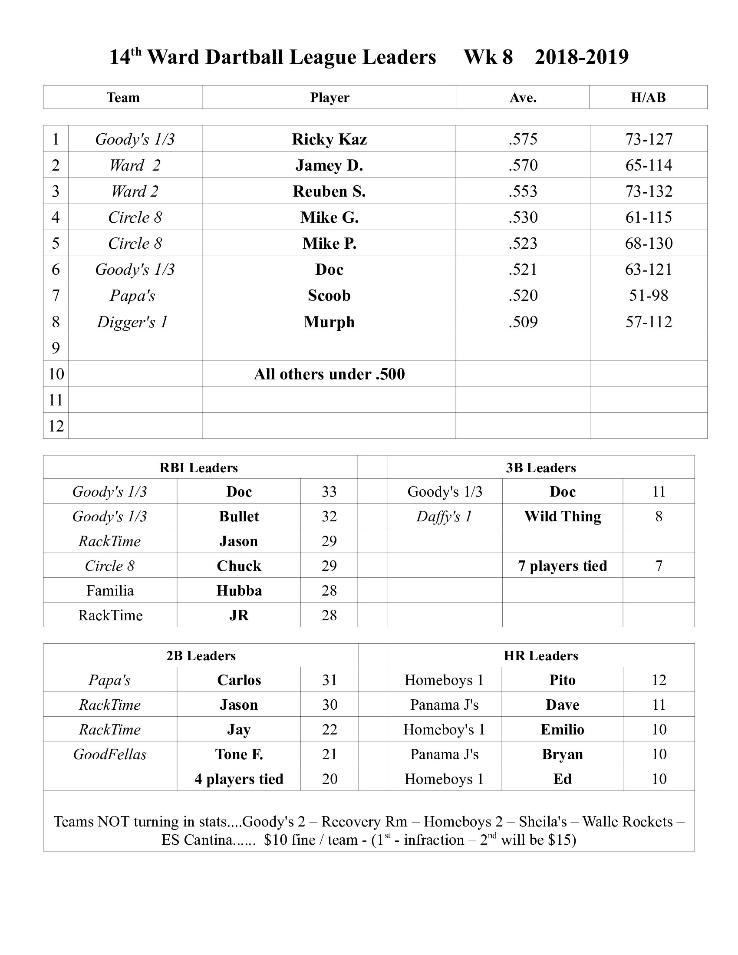 2018-19 Dartball season.....
All teams ...remember to check your bar and board set-up to ensure everything is ready for the first match.....
Lighting....(adequate lighting on board, batters box & throwing lane)
Game board in good condition...

Dartboard height ( 52 1/2 in. to center of "H" )....

Board distance ( 25 ft. from batters box to center of board )....
2 ft. clearance from batter or "throwing lane" for any seating or standing space...
Score sheets are 3 copy this year ( 1 -home team, 1 -visitors, 1 -League) (must be saved by home team & turned into league at later point)

Also just an FYI.... the darts we use cost approx $3 ea or $35/dozen....(remember that when your mad because YOU are throwing bad & want to take it out on the darts)

HOME TEAM MUST CALL OR TEXT IN RESULTS IMMEDIATELY FOLLOWING YOUR MATCH to....

Murph at (419) 290-2187....

All teams should keep up to date accurate "Team Stats"....these will be turned in to the league following wk8, wk 14 wk 20, & end of season.... failure to do so will result in a $10 fine per occasion....
ALL TEAM ROSTERS MUST BE TURNED IN BY WEEK 6 -- October 15th

Season will start Sept 10th...
New


"Do you know what my favorite part of the game is ?

The opportunity to play."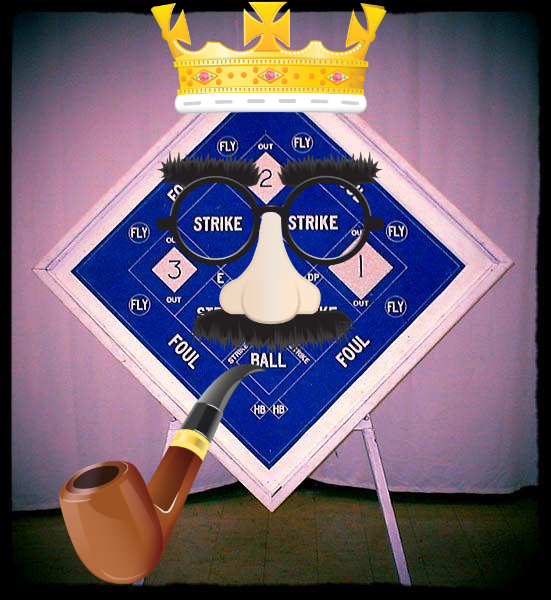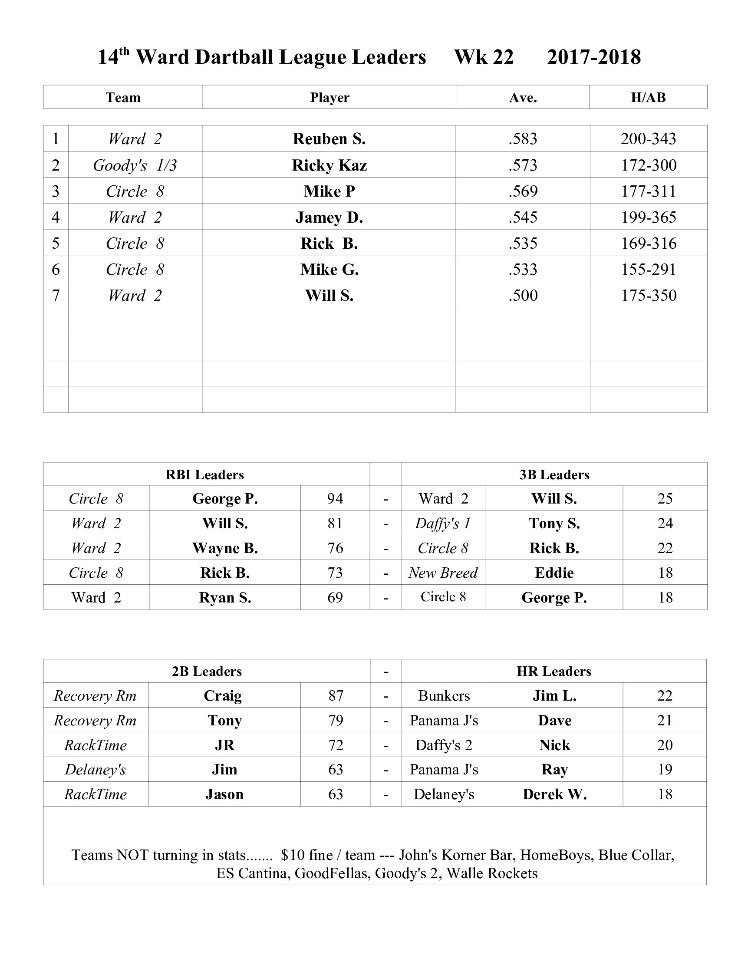 ---------------------------------------------------------------------------------------

Remember.....This League only works if you do....Team Captains are

responsible for making sure all required league papers on turned in on

time...& for ensuring your team, darts, board & home-bar are ready

for scheduled matches... Without co-operation & participation it is

impossible to maintain a legitimate league.....
WEEK 15 League Stat Leaders....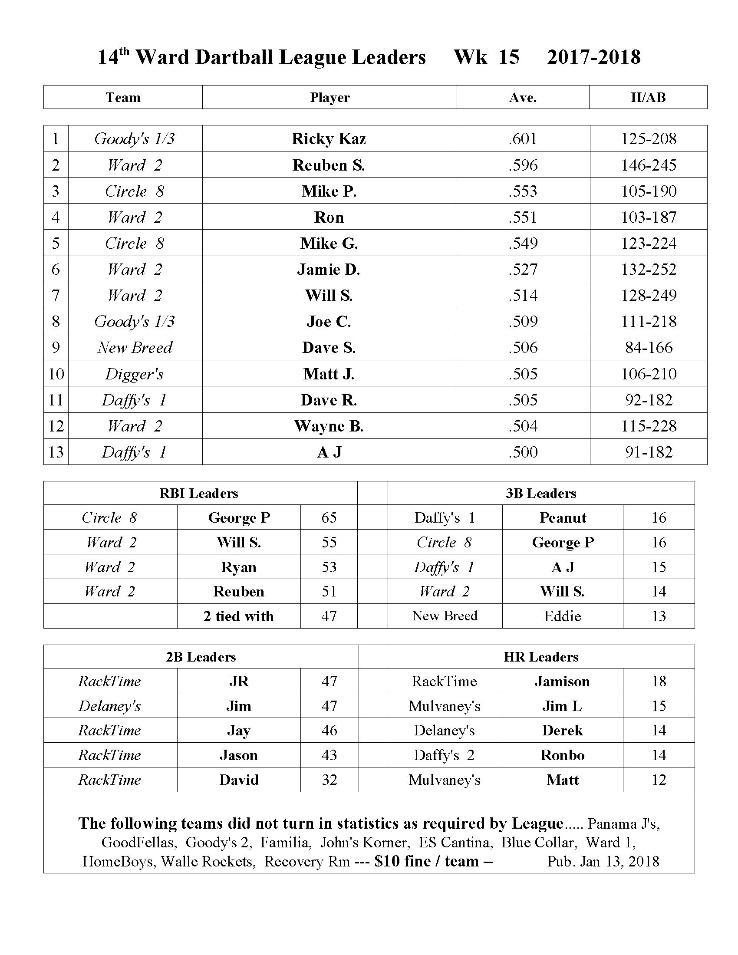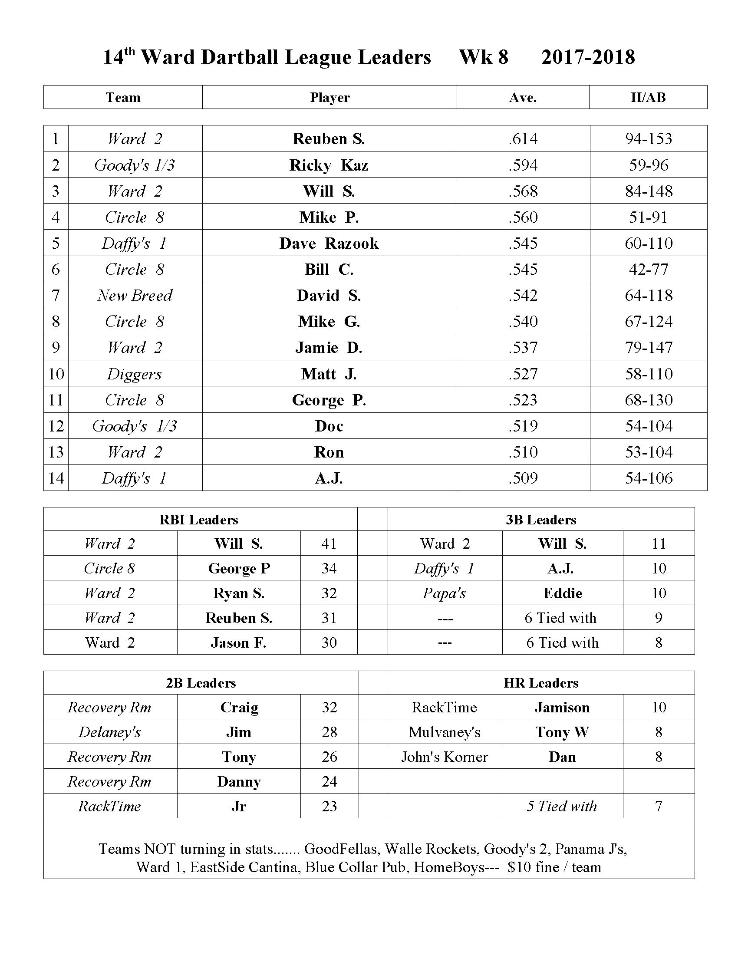 __________________________________________________
Team Roster Page has been updated and can be viewed here
or go to "Team info" page....
--------------------------------------------------------------------------
New Schedule is complete and can be downloaded or
viewed here.... 2017-18 Schedule
___________________________________________________
League Rules have been updated and can be downloaded here....
-
..
*********************
Please make sure your team's Capt / co-capt or
representative is at all meetings
2017-18 Season Starts Monday Sept 11, 7:30 pm
________________________________
_________________________________________________________
_________________________________________________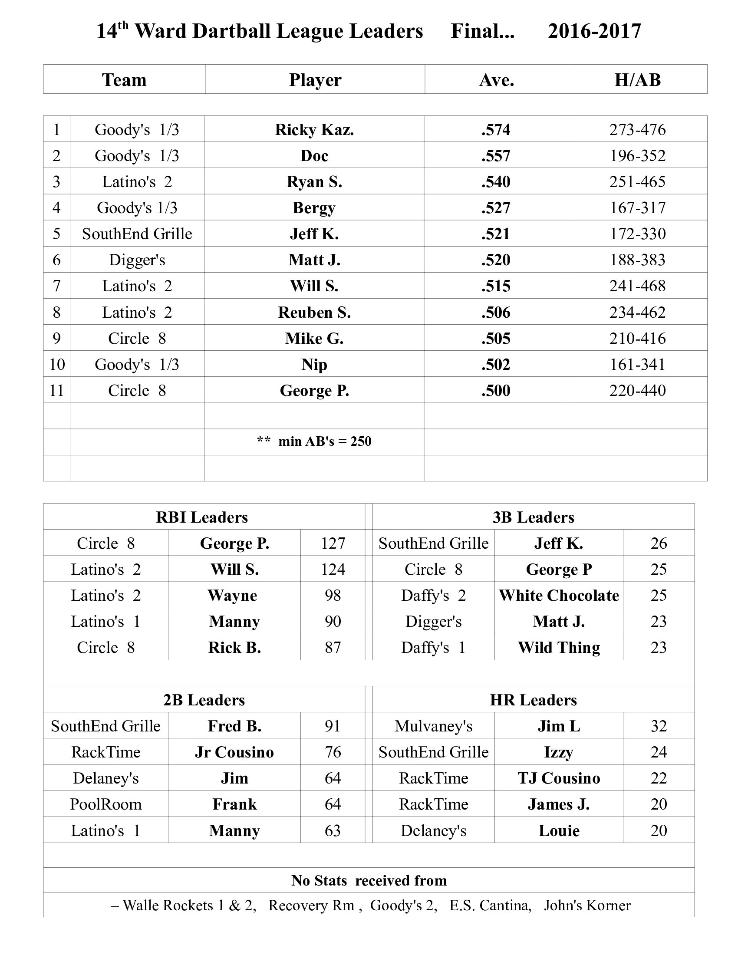 ============================================================

============================================================

============================================================


Start time --- 7:30 pm this year....

All teams are required to keep stats for for the players on your team
... a running total of the stats will need to be turned in to the league, AFTER week 8 of the season.....also Week 15 , Week 22 and end of season..
Simply snap a clear picture of them and send in....
Stats should include- hits/ AB -Averge-- number of 2B's , 3B's ,
HR's & RBI....
Teams not turning in stats will be fined $10 per occurrence...
ToledoDartball@aol.com
2017-18- Champs....
2017-18 Runner-up....
2016-17 Champs - Goody's 1/3
2016-17 Runner-up - Daffy's 1
2015-16 Champs - Goody's 1/3
2015-16 Runner-up - Latino's 2
2014-15 Champs - Circle 8
2014-15 Runner-up - Ward 2
2013-14 Champs - Circle 8
2013-14 Runner-up - Daffy's